As the epicenter of the Novel Coronavirus (COVID-19), Wuhan was originally equipped with medical waste treatment a capacity of only 50 to 60 tons per day, which can barely cope with the treatment of medical waste in Wuhan usually. During the outbreak, the amount of medical waste has surged. As a result, the shortcomings of insufficient medical waste treatment capacity in Wuhan were exposed, and a large amount of highly infectious medical waste was piled up in or around the hospital, which could not be cleared and transported in time. The situation was urgent.
In the past month, dozens of small emergency treatment equipment have been supported for Wuhan by various organizations of China. However, due to the small processing capacity of these equipment and the failures in shredding textile such as protective suits, they are far from filling the huge gap in the capacity of medical waste treatment facilities in Wuhan.
On February 4, Wuhan City sought help from the Ministry of Ecology and Environment and China Energy Conservation and Environmental Protection Group (CECEP). After urgent discussion, the departments quickly decided that CECEP would take the lead and build a medical treatment facility with a daily processing capacity of 30 tons in Wuhan in 15 days. The emergency center should solve the problem of insufficient medical waste treatment capacity in Wuhan throughoutly. The center uses the technology and complete sets of equipment of Gient, the leading supplier of medical waste treatment equipment in China.
Gient CEO Mr. Gong said, "in general, the construction period of a 30-ton medical waste treatment plant takes about 10 months. To build a medical waste treatment plant of this scale in 15 days is almost an impossible task for us. After receiving the task on February 7, we immediately organized technical forces to carry out design with the CECEP team, and began to purchase various materials and parts necessary for the construction of a 30-ton production line."
This project started on February 9 and was put into service on February 22. From a mud ground, until treatment equipment were installed, it took less than 14 DAYS. It created a miracle in the history of the construction of a centralized medical waste disposal plant. The operation of this plant will basically alleviate the problem of insufficient medical waste treatment capacity in Wuhan, avoid the risk of infection caused by the pile of medical waste in hospitals.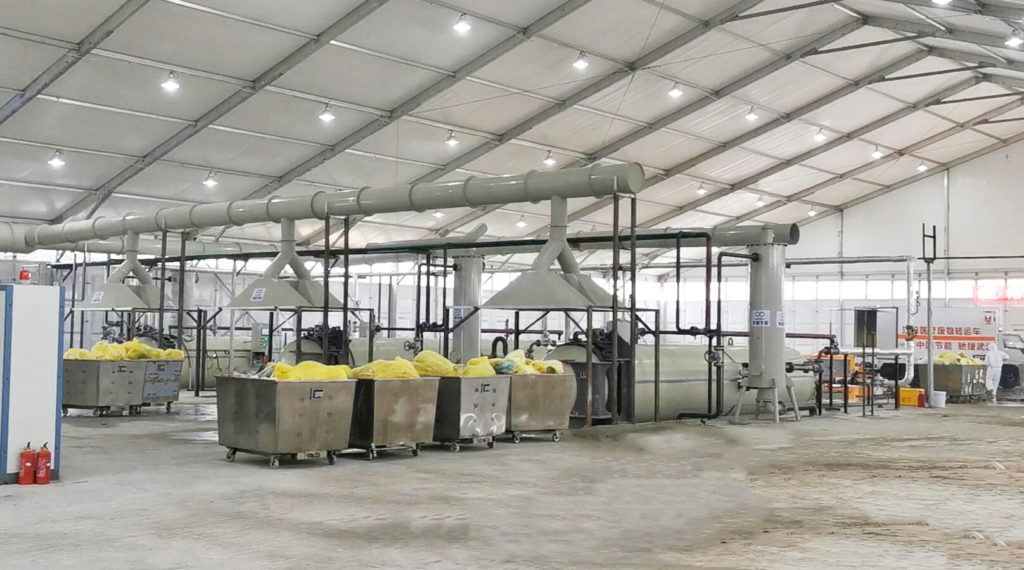 To accomplish such a miracle, in addition to that Gient has a team capable of fighting and being highly skilled, the all kinds of supports of our government, many excellent suppliers and friends from all walks of life have played a key role in our efficient work.
Here, we thank all sectors of the society for their support to work together to overcome the epidemic.