Medical Waste Shredder
GS Series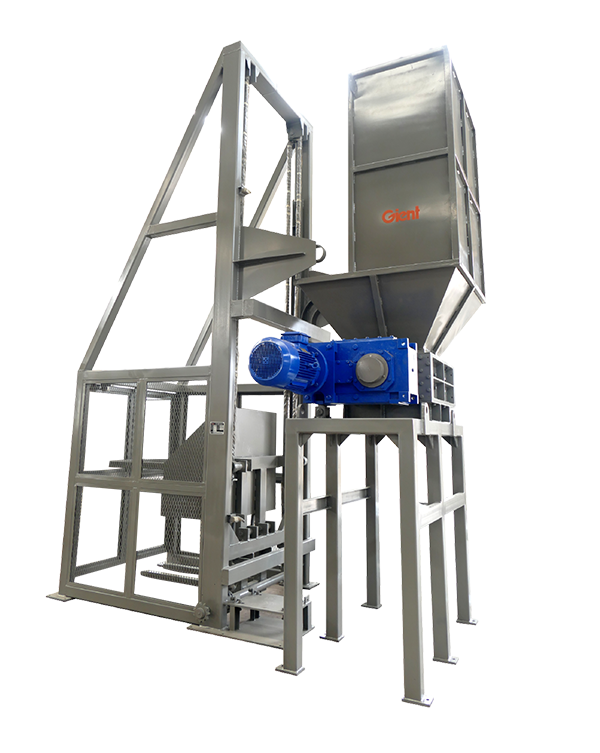 Connector.

Application

Dedicated for medical waste shredding

Connector.

Productivity

Up to 3 ton/hour

Connector.

Working type

Sterilization prior to shredding

Connector.

Features

Double shafts shredder with wear resistane blades. Proven high reliability
Send an enquiry
Medical Waste Shredder
Shredding is a crucial part in medical waste treatment. The technical requirements of medical waste shredder is usually high, because medical waste contents not only hard materials like glass and a small amount of metal, but also soft materials like cotton yarn and clothes. GIENT medical waste shredder system, GS Series, is dedicated designed to adopt the severe working circumstance of medical waste treatment, and to reduce the volume and size of medical waste after sterilization.
Shredder system is composed of shredder, control cabinet, automatic bin dumper, hopper and optional screw conveyor. The shredder has two shafts and specific wear resistant blades which crush and grind the waste into unrecognizable pieces.
Gient medical waste shredders are serving in a large number of medical waste treatment plants and have been proven reliable and endurable by the market.
Core Features & Advantages 
Fully automated, easy to operate and maintain

Strong and sturdy housing which can last for over 10 years without maintainace

Wear resistant blades ensure the optimized shredding performance

Advanced design of discharging system to avoid falling of the waste and spreading of the odor

High efficiency and high productivity

Proven reliable and endurable by the market

Know more medical waste treatment.



Standard Configuration
Double shafts shredder

Hopper

Automated lifter & dumper

Control cabinet
Optional Configuration
Screw conveyor