Mobile Medical Waste Treatment Station
MWM Series
Connector.

Application

Emergencies and customized demands

Connector.

Capacity

Effective loading volume: 100L to 2700L

Connector.

Temperature and pressure

134°C, 2.2 bar (adjustable)

Connector.

Microbial inactivation

99.9999% – 99.999999%

Connector.

Waste volume reduction

50-80%
Mobile Solutions for Medical Waste Treatment and Disposal
Mobile Medical Waste Treatment Station, MWM Series, caters to many other customized demands, such as in military field hospital, emergency situations such as nature disaster and epidemic diseases (earthquake, Ebola and MERS), or taking care of marine and island's medical waste.
The system is composed of autoclave and shredder system, steam generator and optional dedicated power generator. It works 24/7 as long as water and diesel available.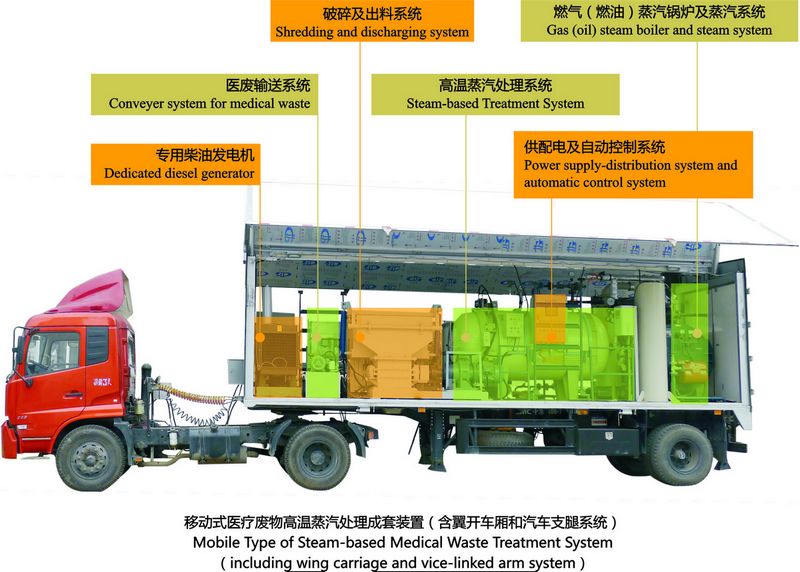 Core Features & Advantages 
Easy, safe, efficiency and environmental-friendly

Green process without hazardous emissions, chemical-free and NO radiation

Fully automated process through smart touch screen & no contact with infectious waste 

Advanced technology against chloride ion corrosion in medical waste

Serving in different situations and all weather working.

High flexibility: all equipment are installed in a special wing-open container. Once it is mounted on a truck, it is able to dispose medical waste within one hour preparation time. 

Know more medical waste treatment.
Standard Configuration
Autoclave and shredder system
Steam generator
Power generator
Special design wing-open container including air system etc.