How To Treat Medical Waste?
Medical Waste Treatment with Autoclave
---
Connector.

Environmentally Friendly

No harmful chemical substances (dioxin and furan, etc) or microwave radiation is produced during medical waste treatment. Medical waste autoclaves fulfill the world's strictest standards of environmental protection and recommended by world organization such as WHO and UNEP.

Connector.

Lower Investment Budget

Initial investment budget is 50% lower than incineration or microwave treatment at the same environmental standards.

Connector.

Low operation & maintenance cost

With significant lower operation & maintenance cost than incineration.
How autoclave works
---
Autoclave (steam sterilization) is widely regarded as the most cost-effective and environmental friendly solution to treat medical wastes which may cause contamination. Unlike incinerator, the pollution caused by incineration is hardly controlled with a cost-effective manner. The emission contains dioxin, furan and other harmful substances. Gient autoclave with shredder system is not only green for human and environment, and the heavy duty design also ensures a long lifespan of the system with low maintenance cost. The medical waste will be shredded into small pieces pre or after sterilization (at temperature 121-138°C/250-280°F), the final residue can be disposed the same as ordinary municipal waste.

Gient medical waste treatment systems are applicable for disinfection of sharps and syringes, infectious waste such as waste contaminated with blood and other bodily fluids (e.g. from discarded diagnostic samples), cultures and stocks of infectious agents from laboratory work (e.g. waste from autopsies and infected animals from laboratories), or waste from patients in isolation wards and equipment (e.g. swabs, bandages and disposable medical devices).
Why Choose Gient
---
---
Easy and safe
Fully automated operation process 
User-friendly touch screen for visible process
Microbial inactivation efficacy exceeds 99.9999%
Zero infection risk for operators
Multiple safety protection mechanism
Advanced odor control technology
Reduce labor cost and protect people's health
---
High quality and reliability
At least 10-year lifespan
Best material and outstanding parts are selected to ensure the most satisfactory performance of our products
Strong and durable shredder system is proven by the market.
High quality with cost-effective price
---
Smart technology

Smart lifelong services based on Gient Monitoring Center (GMC)
Self-recording operation data
Remote online diagnosis and problem-resolving
Data analysis and alarm prior to abnormalities
Reliable and convenient during operation
---
One-stop supplier
We provide comprehensive solutions for medical waste disposal companies as well as hospitals
A full range of products in medical waste industry
Advanced technology and experience in solid waste management
With the strong R&D and manufacturing capability Gient is able to provide clients advice, service and whole packaged products.
GIENT MONITORING CENTER – GMC
---
Gient Monitoring Center (GMC)
Each Gient medical waste treatment system is equipped with data collector, which could record the operation data and send the data back to GMC timely. GMC is able to pre-estimate and pre-alarm to any abnormalities, so as to provide guidance to the local operators regarding the operation, repair and maintenance etc.
What can we benefit from GMC?
Smart lifelong services based on GMC
Hazardous waste tracking system from hospital to waste disposal facility.
Self-recording operation data
GMC analyzes data and reminds prior to problems happen
Remote monitoring provides problem-solving online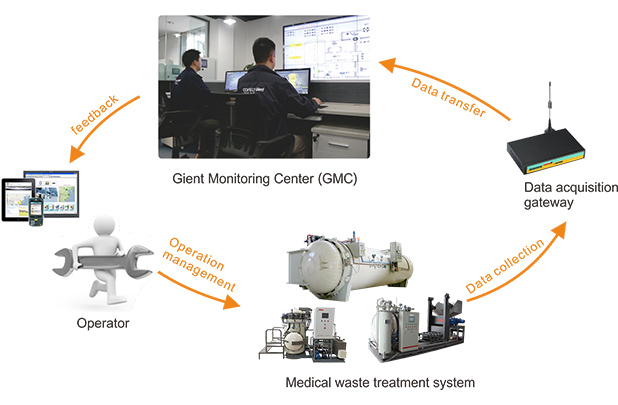 Our Approvals and Certificates
---
We provide Gient medical waste autoclave and shredder system with world-class quality:
OUR PURSUIT: MAKING MEDICAL WASTE TREATMENT EASY, ENVIRONMENTALLY FRIENDLY AND ECONOMICAL!
---